The Shadow Project will reach hundreds more at-risk students with learning-related disabilities this year thanks to new partnership with Vibrant Village Foundation 
Vibrant Village Foundation has awarded a $150,000 2-year grant to add five new schools in East Multnomah County to The Shadow Project's service area and build capacity to support future growth.
Click here to view in larger window, or continue reading below.
Portland, OR (July 30, 2013)—Children in special education represent one of Oregon's largest at-risk populations, prone to disengaging from learning and failing in school. The Shadow Project is responding to help these struggling students whose barriers to learning include ADHD, dyslexia, autism, and communication disorders.  Shadow is the only nonprofit in the state of Oregon that equips classrooms with a structured, incentive-based framework and educational materials to help special education teachers reach struggling children early and engage them in learning—critical to keeping them in school.
Since 1997, the Portland-based Shadow Project has worked with teachers to help close the achievement gap for more than 6,500 at-risk children in 28 metro area schools. Oregon has more than 74,000 special education students, many of whom need the engagement, inspiration and in-classroom techniques Shadow offers to youngsters grades K-8, most of whom are from low-income homes.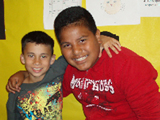 Now, The Shadow Project will serve five additional schools in East Multnomah County thanks to a two-year $150,000 grant from Portland-based Vibrant Village Foundation. The gift will enable Shadow to reach hundreds more at-risk students in the Portland metro area at schools identified as high-poverty, high priority.
"The Vibrant Village partnership with the Shadow Project was born of an alignment of our parallel missions to improve outcomes for students with learning disabilities—a very underserved, at-risk group across the state," says Ken deLaski, founder of the Vibrant Village Foundation. "The Shadow Project provides significant proven work, is low-cost and replicable, and is poised for growth making their model an ideal fit for our local community investment."
The Vibrant Village Foundation will help implement recommendations from the Harvard Business School Association of Oregon (HBSAO) which chose Shadow as its pro bono beneficiary and calculated the organization's Social Return on Investment.  HBSAO recommended the program be expanded and enhanced. Thus, the Vibrant Village grant will not only increase the number of students and teachers benefiting from the Shadow Project, but will expand the organization's evaluation and assessment tools.
The grant will also raise visibility for Shadow and the students it serves, increasing educational opportunities and promoting equity for this underserved, but highly promising population.  With this investment, Shadow will hire a full-time Communications and Development Associate to support its capacity-building  The Shadow Project served 1,300 students this past school year and expects to increase its program reach by 75% to 2,500 students by 2016.
"Only 38% of Oregon students with learning-related disabilities graduate with their class, the lowest rate in the state. Our goal, commensurate with the Governor's goal of increasing graduation rates to 100% by 2025, is now more attainable thanks to the Vibrant Village grant," says Christy Scattarella, founder and executive director of the Shadow Project. "This generous investment in Oregon children enables us to serve more classrooms and the incredible teachers who work so hard to keep this at-risk population in school and on track to graduation."
Founded in 2010, the Vibrant Village Foundation is a private, family foundation started in 2010 by Ken deLaski. In 2009, Ken was inspired on a trip to Haiti with his daughter to create a foundation that invested in the long-term potential of villages around the world. They provide direct assistance and grants to vulnerable communities worldwide. Today Vibrant Village supports projects in nine different countries, including the US where they fund initiatives in Portland, Oregon and Washington DC.
ABOUT THE SHADOW PROJECT
Inspired by a Portland boy with learning challenges and named for his dog, The 'Shadow' project has evolved from a small volunteer operation in 1997 to a program that will serve at least 1,500 students this fall. The Shadow Project is Oregon's only non-profit supporting special education classrooms to build habits for success. Shadow leverages the existing education system, equipping special education teachers with a structured, incentive-based framework and educational materials they integrate into their daily curricula.  Every day in class, students can earn "Shadow Bucks" for progress toward goals such as turning in homework, increasing attendance and making good choices. They celebrate milestones once a month on "Shadow Day," earning reinforcers that promote critical thinking, literacy, self-sufficiency and good citizenship, such as books, school and writing supplies, and family reading kits, that have many families reading together for the first time.
"You won't find an organization better than The Shadow Project at helping Portland's vulnerable kids to believe in themselves and unleash their potential for learning. They benefit, our schools benefit and ultimately we benefit with thriving, productive people in our community," says Mark Holloway, executive director, Social Venture Partners.
##
More Information:
Claudia Johnson
503-799-2220