In October, we had 23 football players from Portland State University visit students in The Shadow Project at Marysville School. Many of the players have ADHD or dyslexia and spoke to the students about their own struggles in school and how they learned to persevere. The visit was an inspiration to everyone.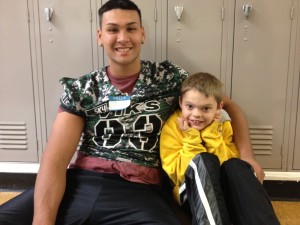 This is a picture of Portland State Vikings football player Jayden Zadlo with Quinten, a 6th grader who's goal is to pay attention and get a B in science. Jayden told him: "You have to believe in yourself and know that you can do it."
Thanks for the encouraging words, Jayden!