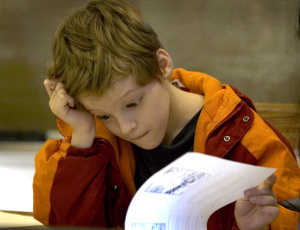 Students in The Shadow Project are learning not to fear failure. Our teachers help students cultivate "growth mindset", what cutting-edge research has identified as a key to motivation and achievement. Children with a growth mindset believe that their intelligence and ability grows through struggle, even failure – powerful news for students with disabilities, whose greatest risk is giving up. Students at Marysville School drew pictures of growth mindset, displaying their artwork in the hallways to share with classmates. Shadow provides teachers lesson plans and other materials on growth mindset and focused our most recent Professional Development seminar on the topic.
Research at the University of Chicago and suggests that mindsets can have a powerful impact on academic performance. It shows that students with a growth mindset tend to perform much better in the face of challenges and have higher academic performance. Growth Mindset is the belief that one's ability and competence grow with one's effort, rather than our capacity being a fixed entity. Students with a growth mindset believe that academic ability is changeable rather than being fixed at a particular level. Success depends on the strategies used and how much effort students put forth, rather than on innate ability, luck, or other factors beyond their control.
Having a growth mindset is particularly important for students with learning-related disabilities, because it equips them to persevere in the face of obstacles and develop academic habits that help them become successful readers, writers and critical thinkers. These habits serve our students for their entire lives!  Growth mindset has become an integral part of The Shadow Project program, providing teachers additional resources to help struggling students develop skills to become successful, long-term learners.
Reference:
Farrington, C. A., Roderick, M., Allensworth, E., Nagaoka, J., Keyes, T. S., Johnson, D. W., & Beechum, N. O. (2012). Teaching adolescents to become learners. The role of noncognitive factors in shaping school performance: A critical literature review. Chicago, IL: University of Chicago Consortium on Chicago School Research.