The Oregonian recently wrote about The Shadow Project's new Program Manager:
http://www.oregonlive.com/business/index.ssf/2015/06/business_movers_wendy_lenz_quy.html
Or view the screenshot below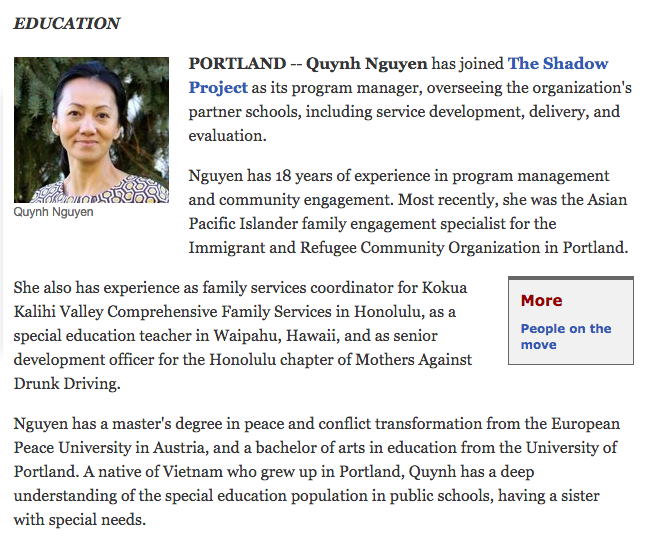 PORTLAND — Quynh Nguyen has joined The Shadow Project as its program manager, overseeing the organization's partner schools, including service development, delivery, and evaluation.
Nguyen has 18 years of experience in program management and community engagement. Most recently, she was the Asian Pacific Islander family engagement specialist for the Immigrant and Refugee Community Organization in Portland.
She also has experience as family services coordinator for Kokua Kalihi Valley Comprehensive Family Services in Honolulu, as a special education teacher in Waipahu, Hawaii, and as senior development officer for the Honolulu chapter of Mothers Against Drunk Driving.
Nguyen has a master's degree in peace and conflict transformation from the European Peace University in Austria, and a bachelor of arts in education from the University of Portland. A native of Vietnam who grew up in Portland, Quynh has a deep understanding of the special education population in public schools, having a sister with special needs.