What happens when young readers find an unknown word in their book? If they're like 10-year-old Isaac at Rosa Parks School they used to skip it. Enter Learning Ally, the online audio library that enables children with disabilities to highlight and repeat unfamiliar words out loud. This school year, The Shadow Project is bringing audio libraries to eight high-needs schools.
"It's easy," said Isaac, a quiet fifth grader who loves math, drawing, and basketball. "If you get stuck on a word, the program reads it to you, and that helps you remember the word."
Children with disabilities often "read with their ears," so audio books are great for gaining exposure to new vocabulary and language structures.
"Think about how powerful it is for a struggling reader to have the opportunity to not only identify a word they may be unfamiliar with, but to remedy it discreetly," said Kim Giarelli, M.S., special education teacher at Rosa Parks. "With the word being repeated to the student, it is more likely they will learn and remember it."
Learning Ally is part of Rosa's new SuperSensory Literacy Space developed by The Shadow Project in May, as part of Portland Public Schools' Read Together initiative. Isaac has found refuge in the Sensory Space, with his stuffed panther friend (photo), and now gravitates to a special fidget and a vibrating pillow while doing grammar sheets.
"It helps me work," said Isaac. "This is a quiet place to come so I won't get distracted. The pillow reminds me to focus, and the fidget keeps my hands from touching things other than my paper."
Kim said increased self-awareness about his learning needs has greatly improved Isaac's school attendance. "He is the classic kid who got discouraged because he thought he couldn't do the work," she said. "Now he knows that he can do it, and he's really trying."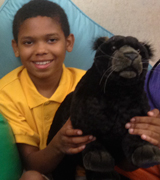 Support a child like Isaac at www.shadow-project.org.