The Oregonian recently published a story about The Shadow Project's new grants, enabling expansion of its research-based SuperSensory Literacy Spaces:
http://www.oregonlive.com/education/index.ssf/2015/08/the_shadow_project_to_add_8_ne.html
Or view the edited print version below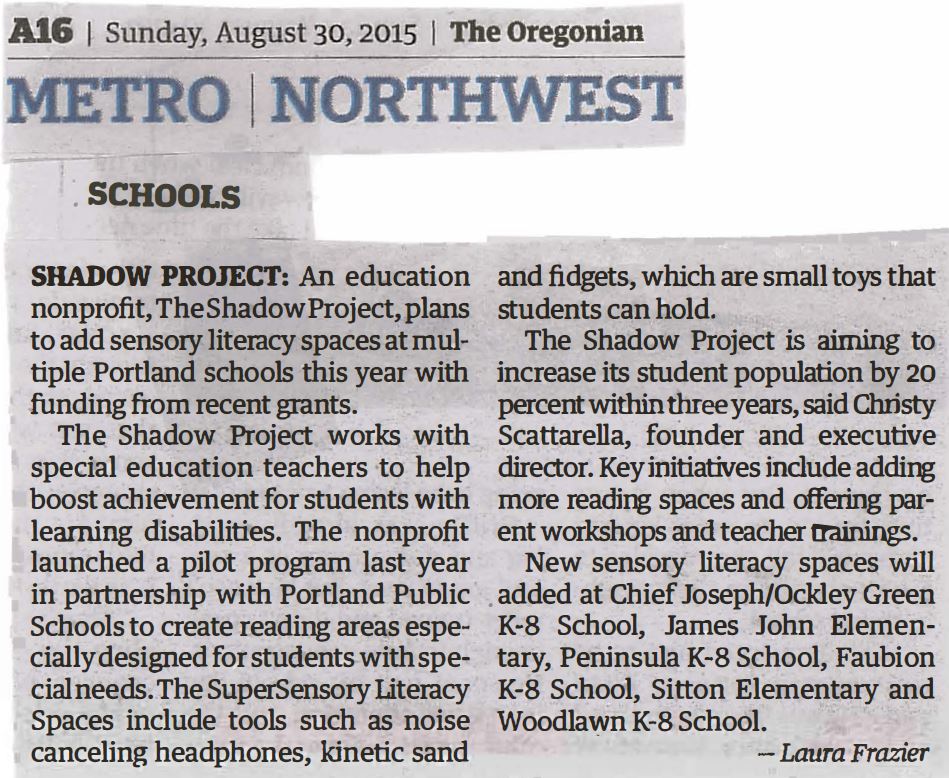 The Shadow Project to add new literacy spaces for special needs students at Portland schools
Rosa Parks SuperSensory Literacy Space The sensory tools include toys students can hold while reading. The Shadow Project recently launched a SuperSensory Literacy Space at Rosa Parks Elementary School. The reading area has materials like fidgets and headphones to help students with learning disabilities. (Laura Frazier/The Oregonian)
Laura Frazier | The Oregonian/OregonLive By Laura Frazier | The Oregonian/OregonLive
on August 31, 2015 at 5:00 AM, updated August 31, 2015 at 5:03 AM
Education non-profit The Shadow Project plans to add sensory literacy spaces at multiple Portland schools this year with funding from recent grants.
The Shadow Project works with special education teachers to help boost achievement for students with learning disabilities. The nonprofit launched a pilot program last year in partnership with Portland Public Schools to create reading areas especially designed for students with special needs. The SuperSensory Literacy Spaces include tools such as noise canceling headphones, kinetic sand and fidgets, which are small toys that students can hold.
The Shadow Project is aiming to increase its student population by 20 percent within the next three years, said Christy Scattarella, founder and executive director. Key initiatives include adding more reading spaces and offering parent workshops and teacher trainings.
The nonprofit recently received a two-year $170,000 grant from Vibrant Village Foundation, according to spokeswoman Sydney Clevenger. The Shadow Project has also recently received smaller grants including approximately $13,000 from the Oregon Cultural Trust.
The Vibrant Village Foundation also awarded a two-year grant to the Shadow Project in 2013.
"The two-year operations grant from Vibrant Village Foundation will build The Shadow Project's capacity to serve additional children in high-needs schools with diverse racial and ethnic backgrounds and expand program services," Scattarella said.
Starting with Chief Joseph/Ockley Green K-8 School, new sensory literacy spaces will added at James John Elementary, Peninsula K-8 School, Faubion K-8 School, Sitton Elementary and Woodlawn K-8 School, according to Clevenger.
–Laura Frazier
lfrazier@oregonian.com
503-294-4035
@frazier_laura