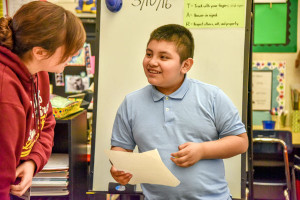 97% of K-3 special education teachers report that having Shadow as a resource strengthens third-grade reading proficiency.
Why this matters: Third-graders who read well are far more likely to graduate high school. Two-thirds of Oregon children with disabilities miss that critical milestone, and one in two graduates on time.
85% of teachers responding say Shadow increases teaching time.
Why This Matters: Lack of sufficient teaching time is a big factor in an attrition rate for special education teachers twice that of general education teachers.
62% of teachers report having chronically absent students; 38% of them say Shadow improves their students' attendance.
Why This Matters: More than 1 in 4 Oregon children with disabilities is chronically absent, according to a new U.S. Department of Education report, increasing their risk of school drop out.
98% agree that Shadow improves the educational experience of students with dyslexia, helping them persevere in difficulty (50% strongly agree); and increasing motivation (70% strongly agree).
Why This Matters: As many as 20 percent of children are estimated to have signs of dyslexia. New Oregon legislation on dyslexia is aimed at better identifying and supporting these students.
93% of teachers with Shadow's SuperSensory Literacy Spaces say the multisensory libraries contribute to their students' success.
Why This Matters: Addressing students' sensory needs builds strong self-awareness and self-regulation, skills that increase achievement.
98% say their students struggle to access general education curriculum.
Why This Matters: Most Oregon students with disabilities spend 80 percent of their day in a general education class, where they are one-to three- years below their peers. Shadow is expanding access to learning tools to support these children throughout the school day and at home.
100% of teachers would recommend Shadow to a colleague!
"The Shadow Project has provided me with so many new resources that I didn't have access to before. The new resources allow me to provide the best learning environment for my students, and helps me meet their needs."

—Shara Klein, M.S., Special Education Teacher Rosa Parks K-5
How does The Shadow Project increase teaching time, according to our special education teachers?
Stronger motivation
Fewer behavioral problems
Reduced avoidance of difficult work
Showing up ready and eager to learn