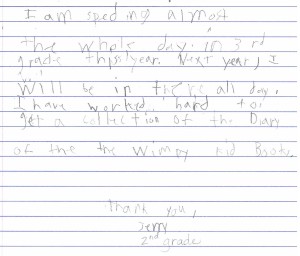 Nine-year-old Jerry was born with developmental delays for which doctors had no answers. When he began kindergarten in Sitton Elementary's life skills classroom, he had trouble walking due to braces on his ankles, his speech was delayed, and his social skills needed work.
But with support from school, family, and The Shadow Project, Jerry, now a third grader, is a different child, graduating from special education into a full-time main-stream classroom. "He has just blossomed," says mom, Deb.
The Shadow Project empowered Jerry because "it made him feel like he was totally in control of achieving for himself," said his former special education teacher Lisa Lum, M.S
As a kindergartner, Lisa said that Jerry knew his letters and some letter sounds, and he had a good vocabulary. "But handwriting was difficult for him, he wasn't reading words or looking at books at school, and his behavior was a little squirrelly."
"One time, I threw my lunch box over there," admitted Jerry, pointing to the corner of Lisa's classroom.
Over the years, Jerry's abilities grew. He began spending short periods in the mainstream classrooms working on his social and physical skills, and he became a good reader.
"With the support from home and then the consistency here at school, I think that made the big difference for Jerry," said Lisa. "It really was a village. But Jerry was also ready to learn. He's very inquisitive."
Mom Deb said The Shadow Project helped to motivate Jerry and illustrated for him the cause and effect of his behaviors. "It really connected in his brain," she said.
"The Shadow Project rewards kids' efforts," said Lisa. "They learn how to be good community members. Shadow teaches kids that no matter what, they can be successful!"
Jerry "has taken off," said Deb. "He loves to read. He loves math. He loves learning. He loves his teachers. His speech is great. He takes great joy that he is in the third grade classroom. The pride and confidence have been amazing."
Philosophizes Jerry, "The older you get, the better that you become."