What sensory tools are most needed in today's classrooms for wiggly learners? Veteran Portland Occupational Therapist (OT) Martha Thomas recommends stuffed balloons, fiddly connectors, and crayons.
"Many children do better when they have something to do with their hands while learning," said Martha, who has been an OT in Portland Public Schools (PPS) for 30 years. "For many kids, fidgets–handheld squish-ables–are the perfect solution for jumpstarting kids' attention so they can focus in class without disruption to themselves or others, often without adult intervention. They can even help kids develop hand skills."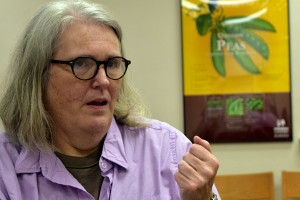 Fidgets can be inexpensive and made with household materials. Here are Martha's top three fidget picks:
#1. Balloons filled with Play-Doh, corn starch, rice, lentils, sand, bird seed, or white flour.
"Filled balloon fidgets are quiet and not too distracting. Students can usually keep their eyes/ears on the teacher when using them. It is important to choose fidgets that don't promote play. I tell kids that fidgets are tools, not toys. If they become toys, consider choosing a different fidget. Flour balloons are a good choice because they don't roll our bounce," said Martha.
#2. Fiddly connectors like two Legos, a piece of Velcro on two small wooden blocks, or anything handheld that connects/disconnects easily.
"These can be great for kids who are overwhelmed and need to take a break," said Martha. "Fiddly connectors require 'heavy work' to get them together and apart, and these repetitive actions can be very calming because they don't require much thought while the movement can help release some nervous energy."
#3. Coloring and drawing are old standbys, so having art materials and paper at the ready is important.
"Coloring and drawing help the central nervous system become more organized and calm because they provide an easy task which allows the brain to rest for a few minutes," said Martha. "It's quiet work, and anyone can do it, so no one stands out as different, which is important to some kids, and creativity can be very empowering."
All schools within PPS have an OT assigned to them, and Martha said OT's are a great resource for teachers who need tips on how to handle fidgety kids.
"We are all sensory beings," said Martha. "It's our only way of interacting with the world. It's important to recognize that children's sensory needs are  part of who they are, and need to be acknowledged for best success in the classroom to minimize disruptions."