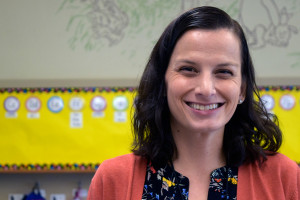 Trying is the number one tenet in Jen Lopez's room.
The first grade teacher at Chief Joseph Elementary has a daughter with autism and, with two high-needs students in her classroom this school year, she knows perseverance is key for children with learning challenges.
At the beginning of the year, Jen read The Boy Who Learned Upside Down to her kids, a book by Shadow Project founder and executive director Christy Scattarella. Boy is based on a true story of a second grader with ADD and dyslexia who is motivated to try in school by setting small goals, and then achieving them.
"This book is the greatest," said Jen, who has been with Portland Public Schools for 17 years. "Everyone should have this book. My kids cried when I read the book, because I cried."
After the Boy reading, the kids created "I Can" signs that hang over all their desks. One reads, "I can rolr scate because I have courage."
"All of our classroom rules are based on this book," said Jen. "I'm so passionate about this book; it's the best."