Portland Public Schools' regional Head Start has new tools to help preschoolers with disabilities focus and engage in the classroom, with a SuperSensory Literacy Space created by The Shadow Project.
The Shadow Project-designed sensory space at Clarendon Regional Early Learning Academy is the first of its kind in a Head Start. The space is now in use for a handful of students, and is designed to meet childrens' three biggest sensory needs: big movement, heavy work, and deep pressure.
"Our teachers came up with the idea of a sensory space as a need," said Susan Fodell, M.S., disabilities manager for Portland Public Schools Head Start. "Because of their interest, we reached out to The Shadow Project.
The Shadow Project worked hand-in-hand with Clarendon's occupational therapist Jessica Wade to tailor five zones that meet the school's three biggest sensory needs.
"Some kids need large movement and heavy work activities in order to be able to learn," said Wade, early childhood specialist with the David Douglas School District. "Having access now to these tools and space will make a difference in their ability to focus and engage in the classroom.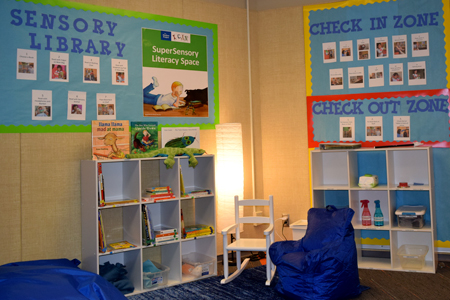 I am excited for kids to have a safe space to go and explore sensory with the goal of them being supported to learn."
The Shadow Project trained Clarendon educators on how to use the space in late fall, and developed a step-by-step manual for how to use the zones (check-in/check-out, manipulatives and fidgets, work table, sensory library, and obstacle courses) and accompanying tools.
"As times have changed, kids are expected to sit more and they aren't getting the sensory experiences they used to get," said Wade. "For some kids, it's hard to adapt, and they can't tell you what they need. Providing a sensory experience helps kids calm their body, and get ready to learn."
Clarendon is The Shadow Project's first foray into early childhood education.
"Clarendon is the pipeline to many of our north Portland elementary schools," said Quynh Nguyen, M.S., Shadow program manager. "We hope to create systemic change in early childhood education, so when students transition to kindergarten, they have the tools they need to succeed, and their parents know how to advocate for them."