Thank you to our donors whose generous support over the holiday season raised nearly $35,000 to equip our children with tools for success in the classroom, and a big thank you to the Willamette Week Give!Guide for a fifth year of successful fundraising!
"Our donors' generosity will put essential literacy tools into the hands of our struggling students," said Shadow Founder/Executive Director Christy Scattarella. M.A. "With gifts from the Give!Guide, our end-of-year campaign, corporate matches, and a match from the deLaski Family Foundation, we can provide children in special education innovative ways to succeed in the classroom."
Thank you also to The Shadow Project's recent foundation donors and corporate sponsors:
*Nike Community Impact Fund of The Oregon Community Foundation
*Robert D. and Marcia H. Randall Charitable Trust
*OCF Joseph E. Weston Public Foundation
*Spirit Mountain Community Fund
*CareOregon
A volunteer initiative piloted by Shadow in the fall of 2016 with the University of Portland, garnered more than 130 classroom hours that benefited Shadow students. Special thanks to Dr. Eric Anctil's sophomore education majors: Nick, Kiana, Jordyn, and Kimberley, for their help in reading with kids on audiobooks, outfitting sensory spaces, and preparing goal setting materials for teachers.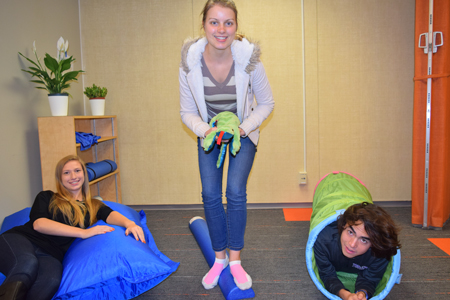 Said Nick: "I found out recently that I have ADD and I can relate to kids with sensory issues because school never really suited me. I wanted to see what it's like for other kids who are struggling in school, and how sensory tools help with reading and focus."
###