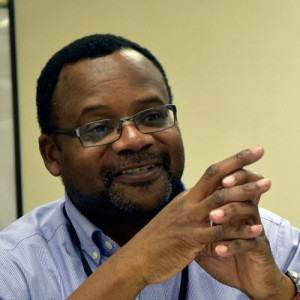 Special Education Teacher, Chief Joseph K-3
Dale is in his sixth year with the Portland Public School District, having now led learning center classrooms at Chief Joseph (K-3) and its sister school, Ockley Green (grades 4 and 5). Prior to moving to Oregon in 2009, Dale was a special education teacher at a residential treatment center for violent teens in Butner, North Carolina, and a special education teacher at an intensive alternative learning program for students in grades K-11 in Creedmoore, N.C.
Dale has a bachelor of arts in recreation administration from North Carolina Central University (NCCU), and a master's degree from NCCU in behavioral and emotional disorders. For his master's degree, Dale spent several months in three South African cities teaching children with behavioral issues and leading workshops for teachers.
Dale had heard about The Shadow Project from his students, even before it was available at Chief Joseph in 2014 as part of PPS's Read Together initiative. "I love The Shadow Project," said Dale. "The kids are so excited when they earn Shadow Bucks, and can then select items from the Shadow Store."
Dale joined Shadow's Parent Teacher Advisory Board in the fall of 2015.