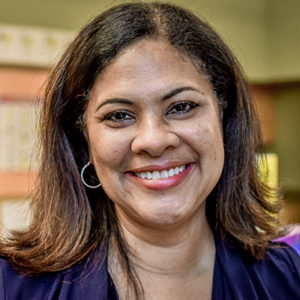 Special Education Teacher, Markham Elementary K-5
LaShell is a special education teacher at Markham Elementary, a post she's held for the past five years. Prior to Markham, LaShell was at Bridger where she was introduced to The Shadow Project. She has two master degrees. One is a master of arts in teaching for preschool through eighth grade from the University of Portland; the other is a master of arts in education, with an emphasis in special education, from the University of Phoenix.
"Shadow is a great motivator," said LaShell. "I love the Shadow Project because it offers kids so many transferrable life skills. The students learn how to earn money, make change, spend or save, and wait their turn for a currency exchange. It gives kids a sense of belonging when they can earn positive reinforcers for following learning and behavior expectations. I really believe in providing struggling students with incentives as recognition for their efforts, participation, and progress towards their individual goals.
"I also like the true story behind The Shadow Project, and I read The Boy Who Learned Upside Down to all my students every school year. The kids always want to hear about Alex and Shadow-the-Dog, and what they are up to now.
"Shadow makes the kids so excited, and happy," said LaShell. "They really look forward to the Shadow Store, and understand they need to work to earn Shadow Bucks to help them achieve their goals."
LaShell joined the Parent Teacher Advisory Board in 2015.