Written by Christy Scattarella
Illustrated by Winky Wheeler
Black Heron Press, 2014
Available at Powells.com and Amazon.com. Proceeds benefit children with learning challenges in The Shadow Project.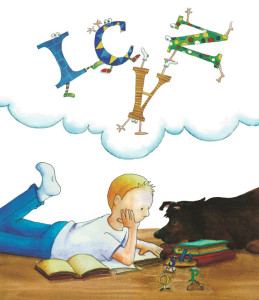 Red correction marks cover his book report like chickenpox. Letters turn cartwheels across the page when he tries to read. No wonder Alex is ready to give up! But with help from his special education teacher and his loyal dog Shadow, Alex changes his mind about school—and himself.
The Boy Who Learned Upside Down is based on the true story of one child's courageous journey to success in the classroom. The story has inspired many other youngsters and led to the creation of The Shadow Project.
With humor and empathy, Boy offers hope to any struggling student who has wondered, "What's wrong with me?" and reminds us all to celebrate the differences that make us unique.
Rated five stars by KART Kids Book Reviews!
"I love it! This book is easy for me to recommend to young readers and teachers. We desperately need more books about this subject, especially ones that are so captivating and well-written."
– Brianne Williams, Children's Librarian
"This exciting, real-life story of a boy's brave journey of determination is sure to interest and inspire any child who experiences difficulty with reading. The Boy Who Learned Upside Down is also a good book for siblings and classmates of reading-challenged children, as it graphically describes what it's like to overcome obstacles when learning to read and to spell."