Onward to 100 Percent Graduation Rate in Oregon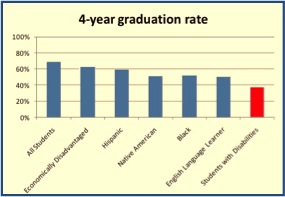 Children with learning challenges are one of Oregon's largest at-risk populations in the state, prone to disengaging from learning and failing or dropping out of school. In 2012, only 38 percent of Oregon's special education students graduated with their class—the lowest on-time graduation rate of any student population in the state—and a far cry from Oregon's goal of 100 percent on-time graduation by 2025. Students in special education need critical help to successfully navigate their way through school.
The Shadow Project is helping support the state's goal of increasing graduation rates through its goal-setting, incentives-based program, with emphasis placed on teacher training. In helping to close the achievement gap for more than 6,500 at-risk Oregon young people, The Shadow Project has been selected for partnership by the Harvard Business School Association of Oregon because of its proven social return on investment in Oregon.