Supporters
Our community of supporters champion children who learn differently through monthly gifts, fundraising, grants and school sponsorship.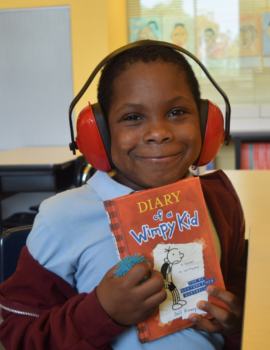 "The Shadow Project has done an amazing job of understanding the needs of special education students and their school environment. The program fits within the current school structure and inspires students with disabilities like ADD and dyslexia."
— Long-time donor

"How often do you know your dollars are going to the source? The card I received from one of the children in The Shadow Project touched my heart. The child said they could read and for the first time did not feel dumb. To change the way a child sees themself is as much a gift as learning to read."
— Julie, donor

``I am impressed with how each dollar is spent in helping children with learning disabilities. The amount of children that benefit from this program is impressive, but more could be reached with increased funding.``
Donor & volunteer
FOUNDATIONS & GRANTMAKERS
Awarded Coronavirus Relief Fund Cultural grant of $22,403.
Provided $7,500 to fund virtual Reading Mentoring.
Provided $10,000 in critical operating support during COVID-19.
Granted $5,000 in general operating support.
Invested $18,000 to fund virtual Reading Mentoring.
Granted $10,000 to fund virtual Reading Mentoring.