Our Reading Mentors Program is an evidence-based program that accelerates reading gains for discouraged students
Reading Mentoring puts cutting-edge technology and trained volunteers in your classrooms. Students are paired with assistive reading technology—for use at school and at home—and a mentor who helps them make progress. Our program can help students advance 1-2 grade levels within a trimester. 
Watch our video to hear from John Fernandez, a Portland high schooler whose special education teacher teamed up with Shadow Project when he was in elementary school. Now, Johnny is a confident student that is working towards his dreams of going to college and one day becoming an architect.
Learn More About Our Programs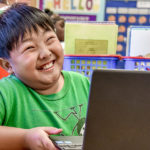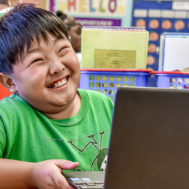 GOAL SETTING
Equips special education teachers with powerful resources that put students in the driver's seat of their own education. As students work towards ambitious goals, they build confidence, motivation, and perseverance.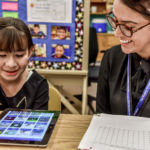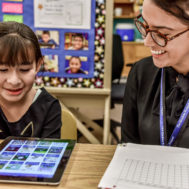 READING MENTORING
This program fills an important gap for struggling readers by bringing together 1) specially designed assistive technology, and 2) trained volunteer mentors who motivate students to set reading goals and encourage their progress.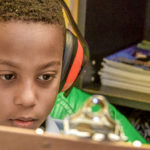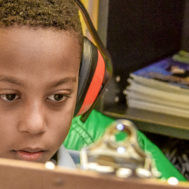 SENSORY SPACES
Build kids' skills to remain calm and focused in class through regular movement breaks. Supported by trained school staff, students identify and manage emotions, the building blocks for good mental health.
What to Expect
1.  Schedule a meeting with us to discuss your school's needs and which programs you are interested in. You'll receive more information (program handouts, cost, testimonials) that you can take to your decision-makers.
2.  Together, we will finalize a school-year contract for the program(s) that you choose. Schools pay a small cost share to support costs.
3.  We will schedule a site visit at your school to meet key staff.
4.  Throughout the year, we will work closely with your staff to orient them to the program, implement, and troubleshoot. For the Reading Mentoring program, Shadow Project staff and volunteers will be on-site weekly.
5.  At the end of the year, we will work with an outside evaluator to conduct an evaluation of the program(s) and outcomes.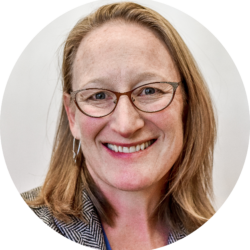 "With support from The Shadow Project, I have seen most of my 4th and 5th graders become readers and decode at grade level."

Beth Brod
Special Education Teacher at Portland Public School District
2021 National Excellence in Teaching Award Winner
Request More Information
Please fill out the form below and we will be in touch to provide more information.